Pros
Multiple Payment Options
Excellent Reputation
Live Chat Support
Cons
Country Restrictions Apply
Few Game Modes
FarmSkins Review
An intriguing CSGO betting platform called FarmSkins has been operating since 2016. This site enjoys tremendous player confidence, and we can see why. They have a beautiful, user-friendly website that never lags. There are a few game modes accessible, such as case opening, and upgrades. We consider their "battles" section to be a highly intriguing feature.
The procedure for signing up is pretty straightforward. Go to farmskins.com, and when you're there, click the icon that says "Sign in through Steam." This is visible in the top right corner. After you have clicked it, you will be brought to the Steam website where you may enter your login information. Enter your login credentials, and then click the Login button. You will now be brought back to FarmSkins while still logged in to your account. To sign up, all you need to do is follow those instructions. Everyone will find it to be a very simple process.
Keep on reading to find out much more about this top-class CSGO gambling site.
Site Layout & Design
The layout of the site is pretty easy on the eye and straightforward. The website has a section called Gaben's Store where users can open cases, and there is also a game called case battle that can be played.
With only a few pages for players to view, the website is simple to use and straightforward to navigate. This is due to the nature of the services provided here, but it does mean that the website is a suitable place to start for individuals who are unfamiliar with this and wish to do so.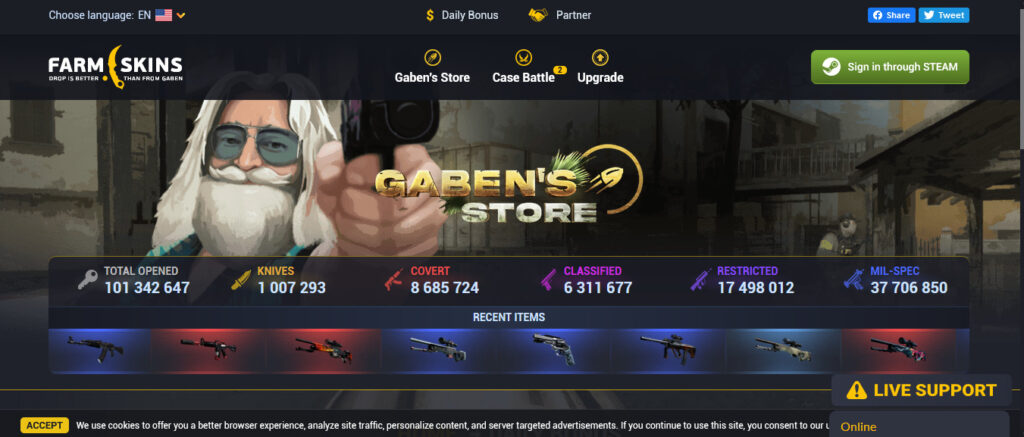 FarmSkins Games
This is a modest website, as was already mentioned, with just a few game modes and one store where you can buy skins and other in-game goodies. There will undoubtedly be players who consider this to be insufficient, but many others will prefer a modest site like this one, either to keep things straightforward or because they are unfamiliar with this type of site.
Case Battle is the name of one of the game, in which you compete against other users of the website to win cases that you can then open to reveal your winnings. When you enter the game page, you will see the available games; simply select one to begin playing.
Provably Fair Games
Trusting the website you are playing on is one of the keys to having fun with any form of online gaming. You won't be able to unwind and enjoy your gaming if you don't have this. Finding a site with game results that can be proven to be fair is how you will be able to trust it. FarmSkins is demonstrably fair; you can check a result if you want to, and because of this, you can unwind and take pleasure in your time here. There is no actual info regarding provably fair games but they claim they are and we are happy to take their word for it due to their popularity.
Rewards & Bonuses
Claim $0.90 free cash by simply using our link. One of the best things about this CSGO gambling site is they offer a number of rewards and bonuses.
FarmSkins Free Cases
There are numerous ways to obtain free cases. The following are the methods for obtaining free goods:
You can get free battle cases by adding and verifying your email address.
You can get a free case when you deposit $10.
To claim free cases and balance, link your social media profiles.
Giveaways are another frequent occurrence that anyone can participate in. They are in fact among the most giving CSGO gambling websites online.
Make sure you follow FarmSkins on social media in addition to keeping an eye on the giveaways page because they frequently publish deals there to entice users.
How You Can Claim FarmSkin's Deposit Bonus
Visit FarmSkins using our link
Sign in to FarmSkins using your Steam credentials
Click the Add Funds icon
Input our code: fruitycasino(Steam level 1+ required)
*Terms and conditions apply*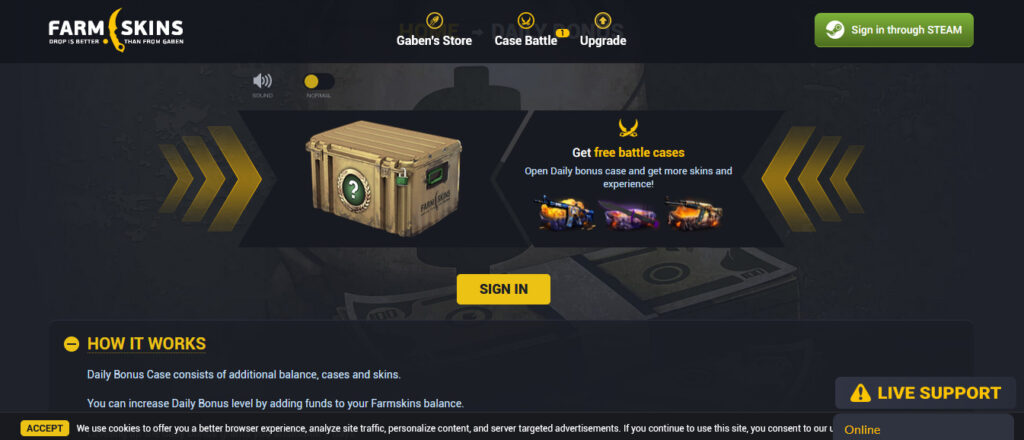 Banking
There are a huge variety of payment methods accessible. Browse the list a little further down the page. Every person from every nation is covered. To stay up with the rapid-fire pace of the internet, they are always adding new deposit techniques. There are just a few withdrawal possibilities, including cryptocurrency and CSGO skins. You must validate your Steam trade URL in order to withdraw using skins; otherwise, you won't be able to do so.
Customer Support
You can get in touch with a member of FarmSkin's support staff through the live chat feature, which can be found in the bottom right corner of the screen. They dont seem to be online 24/7 but other options are available including via email and social media.
Mobile
The mobile version of FarmSkins is good. In fact its great. The few game modes that are available work well and here was absolutely zero lags during our tests with an iPad tablet. All of the functions that are available on the PC version are also availble on the mobile version – including depositing, withdrawing and visiting Gaben's store.
FarmSkins Affiliate Program
Create your own unique promo code to draw players to the website and earn some additional cash. The program has 5 levels, numbered from 1 to 5. Depending on how much your referred players deposit, you can earn commission of between 3 and 7 percent. Additionally, the referred players will get a $0.90–$1 sign-up bonus to play with. Few businesses provide as much in the way of a registration incentive. To redeem a deposit bonus, click on our link, check in with Steam, and then click the three yellow arrows next to the "Add Funds" icon. Enter fruitycasino as the promotional code.
Join the FarmSkins Affiliate Program here.
Our Verdict
The features on this website are fantastic. The website is incredibly simple and easy to navigate, and everything works quite well. It's also fantastic that the live chat appears to be available occasionally. We find it annoying that they don't appear to have a method for games that can be proven to be fair. This may turn off a lot of players. Although we personally played there and experienced no problems in the past, it is obviously up to you to form your own opinion. This website is recommended by our review team. They have been online for such a long period of time, which is a huge plus.
FAQ
Is FarmSkins Legit?
Since the site has been online since 2016, we are happy to answer this question. As far as we are concerned, FarmSkins is as legit as you can get. The CSGO gambling industry is slowly repairing itself from many controversial situations in the past.
Can I Get A FarmSkins Bonus?
You can claim $0.90 free cash when signing up using our link. This is one of the most generous bonuses offered by any CSGO gambling site online. As well as a sign up bonus you can also claim a deposit bonus and daily bonuses. FarmSkins really love rewarding new and loyal players.
Does FarmSkins Accept Bitcoin For Deposits?
The great news is yes they do accept Bitcoin and another few popular crypto coins. we hope that in the future they add more options because cryptocurrency is such a popular thing these days. All you need is your own personal wallet in one of the accepted crypto coins.
Does FarmSkins List Any Country Restrictions?
Yes unfortunately. Denmark, Belgium and Netherlands are listed as restricted countries. If you reside in China you also have to download software to play. The software can be found on the FAQ page. It is basically a proxy that will allow Chinese players to play.
FarmSkins Details
Belgium
Denmark
Netherlands