Pros
Provably Fair Games
Many Slot Providers
Crypto Faucet Available
Cons
No License
Crypto Only Payments
Windice.io Review
Despite our best efforts, we were unable to identify the company that operates Windice.io. There is no company name anywhere in the terms and conditions. Our attempts to get in touch with the staff of the website to ask them this question were fruitless. We are aware that the website went live some time around March 2018. It currently has a sizable user base, having reached 460 million bets by August of 2020. It's a straightforward gaming website. It places a strong emphasis on cultivating a sense of community among its users by way of dedicated forums, chat, and other features that are reminiscent of social networks. They support a variety of cryptocurrencies. The site also runs promotions that should make it possible to earn some pocket change from one or two rolls. It is active on Twitter, Telegram, and VK, among other social media platforms.
Windice makes heavy use of grays and goes for a kind of retro style, with font sizes and typeface choices that deviate from what is typically seen. There is also a square pattern in the background that looks somewhat like a tablecloth. You can see this pattern if you look closely.
Registration
The process of registration is extremely straightforward. The only thing you need to do is accept the terms and provide a user name for yourself. After that, you are eligible to receive a daily prize and a brief tutorial on how to use the website, both of which you are free to bypass. You will need to enter your profile in order to set everything up. During this process, you will be prompted to enter your email address, password, and make other adjustments to your account.
After you have completed all of those steps, you should familiarize yourself with the chat as soon as possible. There, you can access the profiles of active members by clicking on them and looking through the number of bets they have made. Additionally, you have the option to add them as a friend, put them on your ignore list, direct message them, and many other options.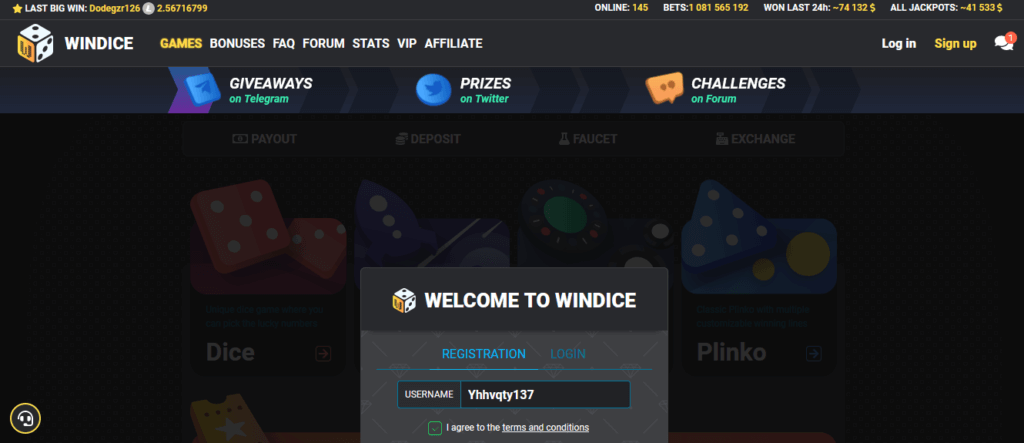 Windice Casino Games
Windice offer many games that are all fair. One of these is a straightforward dice game, another is a crash game, and the third is a Plinko game. You can check that they are fair by using the code example that is provided in the Fair Game section. WinDice.io ensures that the process of producing the round outcome is honest and free from fraud by comparing the hashes generated before and after the randomization.
The game of dice produces a number between 0 and 9999. Its objective is to evaluate this number in relation to the player's betting range and the game's outcome. Both the probability of winning and the winning coefficient are dependent on the winning chance as well as the betting range that is available.
In the crash game, a random multiplier in the range of 0.99x to 9900x is generated and compared to the payout that the player has previously selected. The multiplier keeps going up but there's always a chance it'll crash. If a player presses the crash button before it actually does anything, they will receive a resultant multiplier that will multiply the amount that he/she has wagered. Consider the following scenario: you place a bet of 0.01BTC and cash out at a multiplier of 5X. As a reward, 0.05 Bitcoin would be sent to your address.
Simply Fair Gaming!
In Windices Plinko game, the player presses on the drop button. The game then generates the ball's direction as it is dropped. It does so, and then it lands in a slot at random with a multiplier that corresponds to it. If the multiplier of the slot is zero, the player loses the bet. If it's a multiplier of three, for instance, the payout gets calculated as the player's bet amount multiplied by the slot multiplier.
Rewards & Bonuses
If you open the bonus page, it may look like there are a lot of different Windice promotions available. Once you read through everything, you'll notice that the majority of the content that is on that page is also elsewhere on the website.
The wagering contests are the primary thing that piqued our interest. There are ones that occur daily as well as weekly. Because the site automatically detects all bets, tallies up the results, and compiles the leaderboard, you are not required to register for both of them. The prize pools are typically distributed as follows: the top 10 participants receive their winnings within twenty-four hours of the competition's conclusion.
There is a jackpot prize that can be won. The higher the bet that you place, the greater the likelihood that you will actually win the jackpot. Playing a minesweeper game is another way to earn crypto for use in the game. There, the longer you play, the more significant an increase in your reward.
You have the opportunity to participate in the multi-level referral and affiliate program if you are someone who is persuasive. You can talk to other people in the chat and participate in the free rain even if you are too lazy to put in any effort.
Players also have the opportunity to earn a daily bonus for their continued participation. You will receive an additional amount of Wincoins and experience points each day of the week that you log in if you do so. The bonus counter will be reset once a week, or if it has been more than 24 hours since your last visit and you haven't logged in.
Available Rewards:
Crypto Faucet: Receive some free cryptocurrency by simply playing their minesweeper game. The longer you survive in the game, the larger your faucet reward will be. You may only claim the faucet if your balance is at zero.
Daily Bonus: Claim A daily bonus simply for logging in.
Wagering Contests: Get to the top of the leaderboard for your chance to win real prizes.
Live Chat Rain: Get bonuses from the live chat! Keep your eye on it!
Windice.io VIP Program
When it comes to the Windice VIP program, there is a point-collection scheme in which you earn points as you bet and play. Your points can be redeemed for a number of different benefits. You can also acquire them by competing in and winning various competitions, completing daily quests, taking part in tournaments, and doing a variety of other things. The greater the number of points you earn and the higher the level you achieve, the more superior the bonuses and perks you become eligible for.
Copper, Bronze, Silver, Gold, Platinum, and Diamond are the six tiers available. Diamond is the highest tier. Your chances of winning both Wincoins, the platform's native currency, and real cryptocurrency increase with each level of the VIP program that you reach. In addition, you will receive VIP rain in the chat, which is significantly more than the regular rain that you might get.
In the two highest levels of the Windice loyalty program, in addition to receiving larger store discounts, you are also eligible to receive Rakeback and cashback deals. Rakeback is a benefit that enables players to receive some of the funds that they have wagered back, whereas cashback is when players receive a percentage of the money that they have lost back. The "store" section of the website is where users can make purchases on the site, including items, Wincoins, boosts, and options for personalization. You can find it in your profile menu.
*Terms and conditions apply*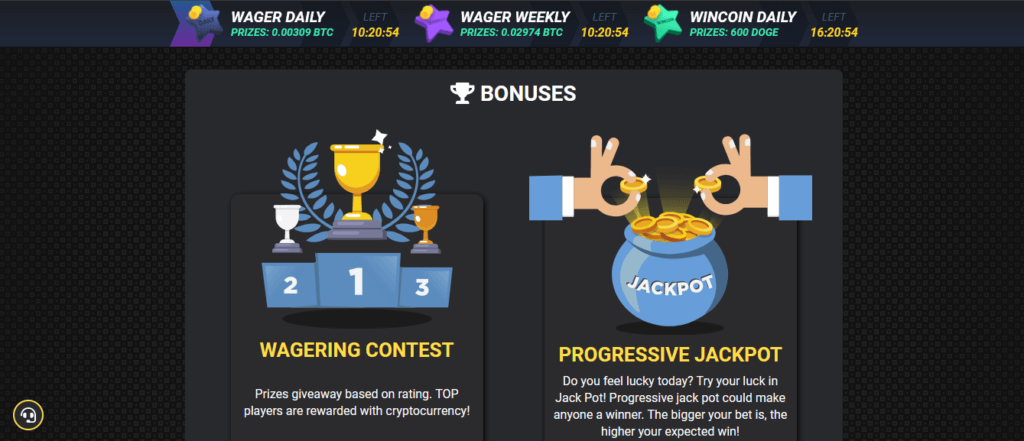 Banking
Windice Crypto Casino is exactly what its name implies! Its a genuine cryptocurrency gambling platform that accepts a total of seven different cryptocurrencies as payment. After receiving the required number of confirmations, deposits made through any one of them should be processed immediately. The number of confirmations required for a transaction using Bitcoin, Bitcoin Cash, Binance Coin or Ripple is one. Three is the minimum requirement for Ethereum and Litecoin, but six is needed for Dogecoin. Because every payout request is processed instantly and posted to the cryptocurrency network within ten minutes, it is expected that withdrawals will also take place instantly.
There is no maximum allowed deposit amount. The minimum withdrawal amount of Bitcoin is 0.00051613BTC. You should also be aware that the website will charge you a commission whenever you withdraw money from your account. Transactions are guaranteed to be both quick and cheap thanks to the system's inherent ability to calculate the optimum amount automatically. However, there are maximums in place for these commissions. Bitcoin is the most expensive coin to send anywhere.
Visit the FAQ page for a complete listing of the minimum withdrawal limits and maximum commissions that are allowed. There is no maximum amount that can be withdrawn.
Minimum Deposit: N/A
Minimum Withdrawal: 0.00051613BTC
Customer Support
There is a live chat feature available on Windice.io. This is a very quick and easy way to get help. For other issues you can also ask people in the chat or sign up for the forum if you find yourself in a difficult situation. We strongly suggest using the chat room because there is always someone there. In contrast to other parts of the forum that appear to be dormant.
The website contains a Frequently Asked Questions page. It is organized into six categories and contains a total of 48 FAQs. These aren't your run-of-the-mill one-sentence answers; in fact, some of them delve quite deeply into the topic at hand and provide an adequate examination of it. That's a massive plus point in the positive column.
Mobile
As is the case with the vast majority of Bitcoin Casinos, there is no App of any kind for Windice. There is currently no mobile App for Windice available for any type of device. Nevertheless, using a mobile browser is the best way to experience the site's functionality.
When we first started using the platform, one of our first complaints was that some of the font sizes were possibly a little bit too large. Everything is very easy to read, which is a great feature to have on a small screen like that of a mobile device. However, the ones in the drop-down menu contain a lot of options. You can get an idea of what the platform looks like on a mobile phone by adjusting the size of the browser window on your desktop computer. However, when you do this, some of the text becomes unreadable because it is shrunk too much, and the result is not an accurate representation of how it would look on a mobile browser. But you get a general idea.
Everything functioned correctly on the Apple phone that we used, including those that were more advanced. There were some pages that loaded in sections, but I think that was probably just a coincidence. The play-while-you-go experience seems to meet our expectations, based on what we were able to determine.
Safety & Security
Windice.io does not possess any type of gaming license at all. If you feel uneasy about this, you should be aware that some websites offering cryptocurrency gambling do not hold a valid license. In particular, those that permit the use of nothing but digital currencies. It would be great to have a license because it bolsters credibility. Not having one is not a deal breaker. In the terms and conditions of the website, there is very little information about what the site will do to protect you as a player.
It is true that Windice uses advanced SSL encryption. The company guarantees that any data that is entered on the website will be kept confidential. In the event of a data breach, it will promptly inform its customers. It will only disclose data in response to requests that are in accordance with the law. All of the backups, as well as the servers and the information stored on them, are reliably encrypted.
Windice Casino Affiliate Program
The Windice Affiliate Program is a great way of earning extra funds to either play with or withdraw. If you make your way over to the affiliate page, you will find all the details. You will have your own personal link to give to people as well as a sall number of banners. You can earn commission in the crypto that your referred players use. All earnings can be withdrawn as long as they reach the minimum threshold.
Join the Windice Casino Affiliate Program here > Affiliate.
Our Verdict
Time to reveal our verdict. To put it simply, Windice is just one of many dice sites out there. It seems that new platforms are constantly being developed. However, this one is pretty good. It is compatible with seven different cryptocurrencies, contains many different games, and includes a point-collecting program that can earn you some unique prizes.
Additionally, there is a site store where you are able to make purchases of various items. Even though there isn't much to choose from, at least there is something. You can get assistance from members and moderators in the chat room or the forums, which is a great option to have. There is a decent community presence here. If you enjoy games like Dice, Crash, or Plinko, we recommend that you check out this site.
FAQ
Is Windice.io Legit?
The website has been around long enough to be classed as legit. The website has built up a real cult following. You can chat with other members and moderators on the live chat. The main thing is does the company pay? The answer is definitely yes, and very quickly.
Are The Games Provably Fair?
The games are fair. Nobody can change the outcome of any bet. To read more about it make sure you check out the 'Fair' section of the website. We like this feature because players in the past were scammed by rogue crypto casinos and this stops it happening.
Does Windice Have A Valid License?
We cannot find any trace of a valid license anywhere on their site. we know that this will put many people off but we have to say that its not really an issue in this instance. The vast majority of reviews that you will find online about this site are generally positive.
Which Payment Options Does Windice Accept?
Windice.io Casino currently accepts seven cryptocurrencies. This may or may not increase in the future, who really knows. We will update our review if it does. Maybe the addition of some type of crypto buying option via credit or debit card would be great also.