Pros
Daily, Weekly & Monthly Bonuses
Rakeback On Every Bet
Provably Fair Games
Cons
Few Payment Options Available
Country Restrictions Apply
Rollbit Casino Review
Rollbit Casino was founded in 2020, yet they're already dominating the crypto gambling sector. They've swiftly become one of the most popular online casinos, and for a good reason. The rewards and bonuses on offer are unrivaled. The Rakeback mechanism is just ridiculous, and we have no idea how they can reward players so generously. You'll play for a few hours and then check your Rakeback amount, which will astound you. All transactions are instant, so if you hit big you may cash out immediately. Everything about this website is fantastic, and we strongly advise you to visit it right now.
**Rollbit Casino is a VPN friendly gambling site**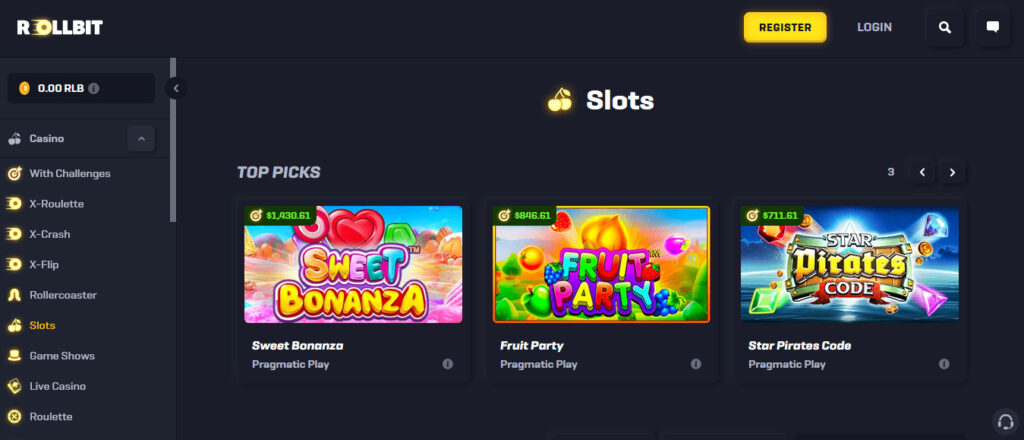 Rollbit Casino Games
At Rollbit Casino, you'll find a wide variety of games from a wide range of developers. There's a strong chance you'll find what you're searching for, as we'll see in this review.
There are over 3,500 slot machines to select from! If you think that figure is excessive, you're right. Rollbit has a massive number of slots to choose from. Choose from Jammin' Jars 2 and Fruit Party 2, as well as many more games, such as Juicy Fruits, Power of Thor Megaways and Razor Shark. Any game you enjoy and wish to play with cryptocurrency? Then Rollbit could be a good fit for you!
Although it may come as a surprise, Rollbit features a decent variety of old games. Classic games of blackjack and roulette are quite easy to come across. However, if you look for conventional games like baccarat in the upper-right corner, you may find them. They also have vintage versions of less popular games like Caribbean hold 'em or Texas hold 'em available.
Rollbit collaborates with a slew of well-known game developers, as previously mentioned. Netent, Microgaming, Pragmatic Play, Play'n GO, Push Gaming and Evolution are just a few of the well-known developers whose titles you'll discover here. You can play the freshest games here, which is why it's clearly one of the finest Bitcoin Casinos around! Recently Rollbit released a game called Rollbot Bonanza. Its a Rollbot NFT themed game where you can hit some huge multipliers. Try it out today!
Rewards & Bonuses
The masterminds behind the excellent Rollbit Casino know how to keep players engaged in continuing to utilize their site! There are three promos that Rollbit gives both new and current players. These prizes are part of the Rollbit Rewards program, which gives "Rakeback," level-up bonuses, and other cashback incentives.
Rakeback: Claim Rakeback On Every Bet!
Regular Bonuses: All players are eligible for a daily, weekly and monthly bonus. Amount depends on how much you wager.
Rollbit Casino Rank Up Levels: Get a Rollbit Rank Up Bonus every time you reach a new rank level. The more you wager, the higher the rank you will reach. The current Rollbit Casino rank levels are as follows:
Bronze Levels
1 – Wager $10,000. 2 – Wager $15,000 3 – Wager $20,000. 4 – Wager at least $25,000. 5 – Wager $30,000.
Silver Levels
1 – Wager $50,000. 2 – Wager $75,000. 3 – Wager $100,000. 4 – Wager $125,000. 5 – Wager $150,000.
Gold levels
1 – Wager $200,000. 2 – Wager $300,000. 3 – Wager $400,000. 4 – Wager $500,000. 5 – Wager $600,000.
Platinum Levels
1 – Wager $750,000. 2 – Wager $1,000,000. 3 – Wager $1,500,000. 4 – Wager $2,500,000. 5 – Wager $5,000,000.
Diamond Levels
1 – Wager $10,000,000. 2 – Wager $25,000,000. 3 – Wager $50,000,000. 4 – Wager $100,000,000. Blood Diamond – Wager $500,000,000. Vibranium – Wager $1,000,000,000. RollBit Boss – If you manage to reach the top of the leaderboard you can claim your daily reward at 00:00 UTC for as long as you manage to stay on top.
Rollbit Rakeback
Any casino game you play has a house edge. 10% Rakeback is offered through Rollbit Rewards. Because of this feature, you'll recoup ten percent of the house advantage on each wager made. Double-zero roulette, for example, has a house advantage of around 5% (2/38). At a 5% house margin, if you play $100 on roulette, the casino may expect to profit $5. For every $5 you spend, Rollbit will pay you back $0.50 (10% of $5). You will receive a daily, weekly, and monthly bonus. All funds have no wagering requirements and can be withdrawn.
*Terms and conditions apply*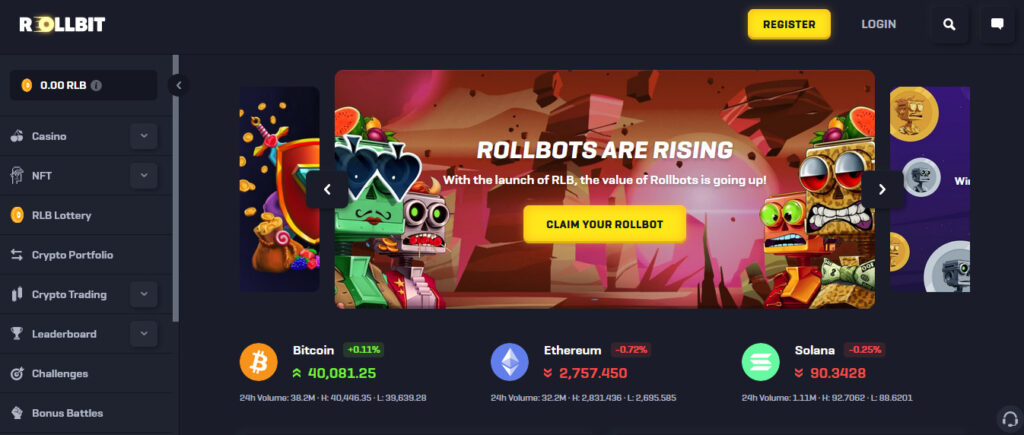 Banking
This site's users will appreciate the variety of payment choices available. The first option is that the site accepts Visa, Mastercard, Apple Pay, and Google Pay for deposits in local currency. Visa and Mastercard payments are also accepted. Finally, if you're a member of the cryptocurrency community, you may use your digital cash to participate. As of right now, users may wager in three different cryptocurrencies: Bitcoin, Ethereum, and Litecoin. You can also use your CSGO skins and items to upgrade the ones you currently have. As of 2021, NFT's can now be deposited into your account as well. Rollbit also has its own coin that is called Rollbit RLB. You can earn some by playing games on the site. Your RLB can then be used to stake on their daily lottery games.
Minimum Deposit: N/A
Minimum Withdrawal: N/A
Customer Support
Rollbit provides customer assistance via four channels: live chat, social media, telephone and email. There is outstanding response time for all four modes of help, and the folks that work there seem to be highly competent. Intercom is the platform that is used for the live chat function. A live chat is just that – you may start a discussion with someone and they will often answer within a few minutes to assist you with your problem!
Having said that, Rollbit offers a very comprehensive FAQ section that should address the majority of people's queries. For example, you may acquire answers to your most often asked questions about the site, such as the criteria for withdrawing funds, chatting, and generally engaging with it. Indeed, the collection of questions and answers in their FAQ section is more extensive than that at most online casinos! Rollbit is one of the top crypto casinos when it comes to customer service!
Mobile
Even though the Rollbits mobile version is well-designed and easy to use, we have issues with how little the games are when played on a smaller screen. This is the one fault we can find with this site, and we hope they can address it in the near future. The mobile-ready version has all the games you can play on the desktop version. Play whenever you want, anywhere!
Safety & Security
The company that owns and operates Rollbit Casino is called Bull Gaming N.V. They hold a Curacao license issued by the Curacao gambling authorities. All of Rollbit's payments are processed via a different company that is based in Cyprus – their name is WinGaming Support Limited. A valid SSL certificate keeps the website safe and secure for your complete gambling satisfaction.
Rollbit NFT
Rollbit is the first casino to develop its own NFT marketplace, which includes several unique features such as Rollbot NFTs. Players may sell and purchase genuine Ethereum NFTs for on-site balances on the NFT marketplace. While this NFT marketplace only has rudimentary functionality at the time of writing, Rollbit is continually adding new features that will ultimately make the marketplace fully functional and competitive. Rollbit's marketplace is unlike OpenSea in that there are no gas costs since all trade takes place on Rollbit's server.
Rollbit Sports Rollbots
Own a share of Rollbit's sportsbook with their unique Sports Rollbot NFT drop. Feel the pleasure of earning passive money from a popular sportsbook while making yourself eligible for unique incentives! Free bets of up to $1,000 will be given to Sports Rollbot subscribers each month. The finest free bets may be found on rarer Sports Rollbots! You may have parlay bets multiplied by more than 100 percent! Owners of Sports Rollbots will be able to take advantage of special parlay bonuses. Rollbit's Sportsbook profits are split among the owners of Sports Rollbots. All sports get a 10% payout, but sports that match your Sports Rollbot may get up to 30%! Every Sports Rollbot will be one-of-a-kind thanks to the machine's extensive set of customization options, making Rollbots not just a useful NFT, but also a sought-after collectible item.
Rollbit Sportsbook
Launched in 2022, the Rollbit sportsbook is exactly what all us crypto players have been waiting on. You can bet on both pre-match and in-play sports on a large number of different sports such as soccer, baseball and tennis. Everyone that uses Rollbit on a regular basis will know that this was a stroke of genius by the sites management. As well as regular sports betting you will also find an option t bet on E-Sports such as NBA 2K and FIFA. Bet sports at Rollbit sportsbook today!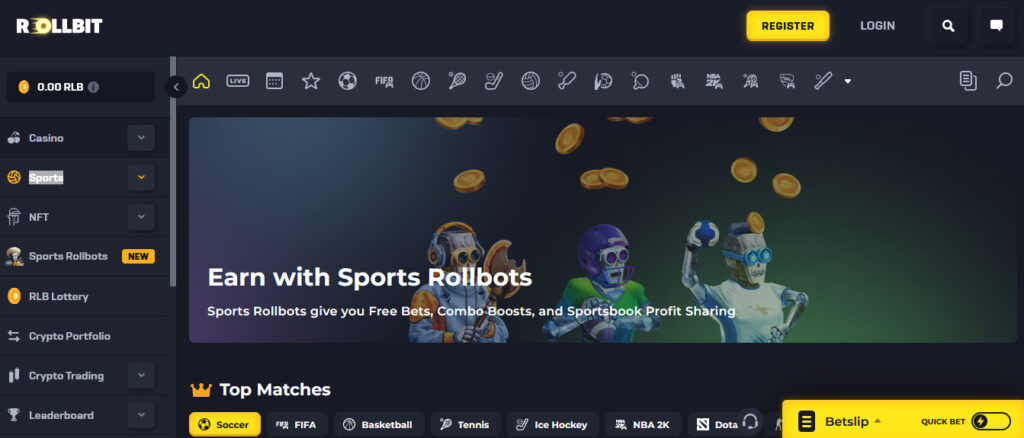 Rollbit Casino Affiliate Program
Rollbit's affiliate program is a fantastic method to supplement your income. You must create your own promo code in order to earn commission. You may accomplish this by going to the referrals page and establishing your own personal code. If necessary, you may establish numerous codes. A partnership option for affiliates with a large number of referred players is also available. A larger commission rate is offered. There are multiple tiers based on how many gamblers you have recommended to their site. The charges start at 20% and may go higher.
Join the Rollbit Casino Affiliate Program here.
Our Verdict
There isn't much more to say that you aren't already aware of. This casino is first-rate, and we wholeheartedly recommend it. Playing at Rollbit is a lot of fun, and they're always improving the site, which is tough since it's already fantastic. The rakeback and incentive system is fantastic, and the website is silky smooth and simple to browse. The team clearly understand what their players desire and ensure that they have a positive experience each time they visit the site. To summarize our review, we are certain that Rollbit will reach the top of the tree, and they most certainly deserve it.
FAQ
Is Rollbit Legit?
We have given Rollbit a top rating and we stand by it 100%. They pay their players instantly and this is what every player wants. A valid license really puts players minds at ease. Try this casino out. They wont let you down. We love playing there.
Who Owns Rollbit Casino?
Rollbit Crypto Casino is owned and operated by Bull Gaming N.V. All payments are processed by WINGAMING SUPPORT LIMITED, that is based in Cyprus. This casino are very clear and transparent and have no problem making these details public. If you need any more information about the site, you can ask via the live chat function.
What Exactly Is Rollbit RLB?
The Rollbit Coin (RLB) serves as an entrance ticket into their lottery, which splits 20% of the casino's income between ordinary lottery rewards and the jackpot (split 70:30). You must stake RLB in each round of the lottery, with a 0.20 percent staking charge.
What Are NFT's?
NFT's are cryptocurrency tokens that represent rare, indivisible, and unique digital collectibles. The word 'non-fungible' simply indicates that the tokens can be distinguished and are not interchangeable. NFT Loot boxes (the world's first NFT loot boxes), the ability to deposit and withdraw NFTs, and a gas-free NFT marketplace are just a few of the features that Rollbit is thrilled to provide.
Rollbit Casino Details
Cyprus
Denmark
France
Netherlands
Spain
United Kingdom
United States