As the world of crypto gambling continues to get bigger, many players from all over the world are turning their backs on regular casinos for a number of different reasons. Many players are sick to death of the rules and regulations that are in force in many of the bigger countries. People do not want to hand over personal documents to strangers at an onlie casino and to be honest, we totally understand it. Some of the team here at Fruity Casinos live in the UK and have been given deposit limits of 10 Pounds per month. Yes you read that correctly – 10 Pounds per month.
When a player decides that they fancy a crack at gabling with crypto, they want to play at the biggest and best crypto casinos. There are none bigger than Stake and people are also finding an up and coming star named Rollbit. Continue reading this Rollbit vs Stake post to find out what we think about both of these quality sites. Stake offers sports betting on a huge number of events. Every event has multiple markets so you have many choices if sports betting is your thing.
Lets Start With Stake Casino
Stake Casino is the biggest Crypto Casino in the world. Anyone that says otherwise is talking nonsense. The volume of wagers they take on a daily basis is simply staggering. We have played at Stake since they first hit the net and have been astonished by the growth of the site. Why has this Crypto Casino grown at such a fast pace and does it deserve to be at the top of the tree?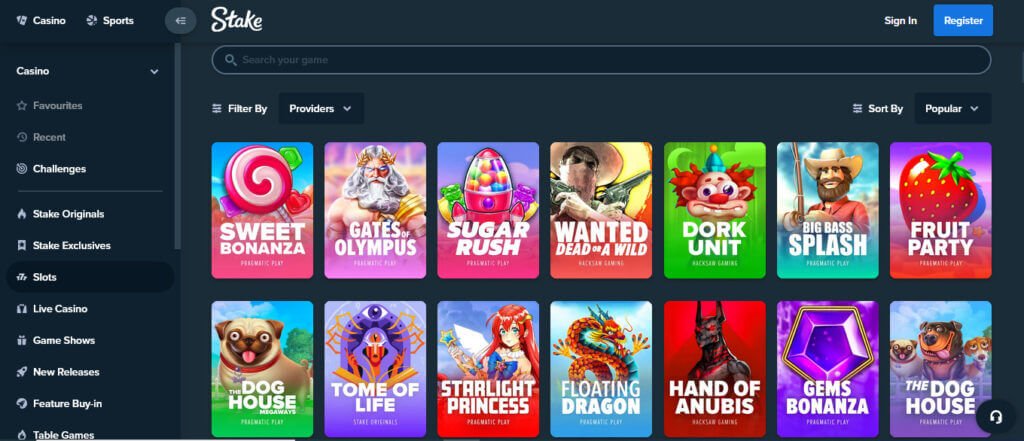 At Stake Casino you will find thousands of games from the best gaming providers in the world. There is gaming options for everyone. If you visit the website and click on the casino text and then slots, you are able to search for a game using the sites filter system. Just select the game provider and all of the available games will appear.
Some games may not be available in your country but will be available in others. The reason for this is some countries have a license for certain providers while others dont. We personally thik everyone should be allowed to play every game from every provider but we also understand gambling sites as big as Stake must follow international rules and regulations. You can deposit via a large number of cryptocurrencies and withdrawals at Stake are instant so there is no waiting around for days to receive your winnings.
Stake Bonuses
When it comes to bonuses, Stake Casino loves to reward players regularly. Everytime you place a wager, you will receive Rakeback. Rakeback is a small percentage of your bet back. This soon adds up and you can claim it whenever you want. It is also withdrawable and without any wagering requirements. Stake also gives players a weekl and monthly bonus. Both of these bonuses are dependant on the amounts you have wagered in the qualifying periods and you VIP level. These bonuses are fantastic and definitely make you feel as if you are being rewarded reguarly. On occassions players will also be able to claim pre and post monthly bonuses. Bonus drops can also be found via the sites official Twitter account.
Stake VIP Program
The Stake VIP Program is one of the best in the business! As you wager real money(or crypto) you climb up the VIP levels. Every player starts off on the Bronze level and if you manage to reach Diamond level, you will have reached the top of the tree. Everytime you reach a new level you will recieve a bonus that has no wagering requirements whatsoever. Your weekly and monthly bonus amounts will also increase. Read our full Stake Casino Review here.
Now Lets Talk About Rollbit
Rollbit Casino is more of an up and coming Crypto Casino than Stake. It is gradually climbing up the ladder and not only because it claims to be the internets most rewarding Crypto Casino. Rollbit also has a large number of games from some of the world's best gaming providers. Deposits and withdrawals are currently only available via a few popular crypto coins including Bitcoin, Ethereum and Litecoin. Rollbit has created their own NFT's called Rollbot's. They are really starting to focus on NFT's and clearly know what they are doing. The Rollbit Sportsbook is also excellent and offers a huge number of sporting events to wager on. If you are looking for NFL, NBA or the world's biggest soccer matches, you will find it at the Rollbit sportsbook.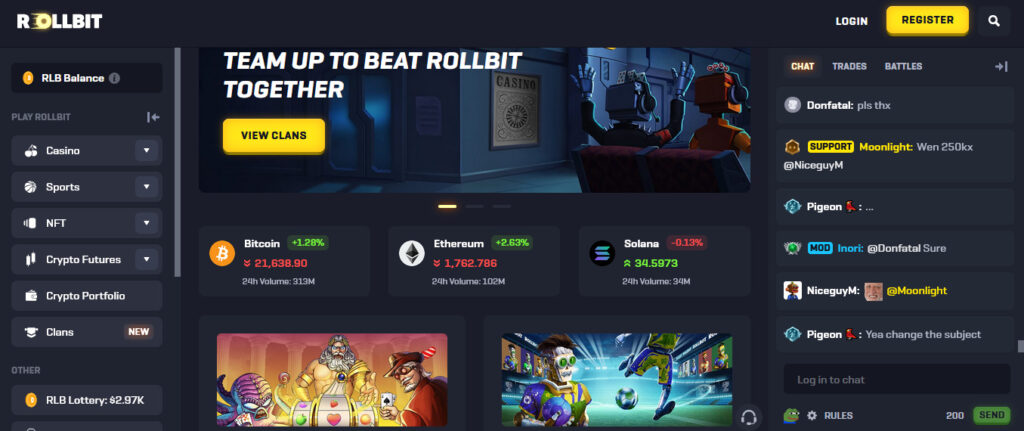 Rollbit Bonuses
Similar to Stake, Rollbit also offers Rakeback on every wager. When we play there, it seems to add up very quickly and soon adds up to a nice amount. Rollbit also has their own coin called RLB and you can use it to enter their lottery game. You earn RLB by wagering real money. When the lottery draw is made you have the chance to win an amount of cash that is fully withdrawable, the same as your Rakeback. A jackpot also builds up and you have the chance to win it but you must stake your RLB. Rollbit also allow real money players to deposit a daily bonus. You can see the countdown timer at the top of the page and that tells you when you are eligible to claim.
Rollbit VIP Program
The Rollbit VIP Program is similar to the Stake Casino one. You climp up the VIP levels by placing real money wagers and you get a bonus everytime you each a new level. If you navigate to the rewards section of the site you can see every level and how much you have to wager to reach that particular evel. This is a great incentive to keep players playing and again you really feel as if you are being rewarded. Crypto Casinos are head and shoulders above regular casinos at the moment when it comes to bonuses and VIP Programs. Read our full Rollbit Casino Review here.
Rollbit Vs Stake – Conclusion
Ok lets get down to the nitty gritty. Rollbit vs Stake – which one is better? Stake has a much larger collection of games and undoubtebly has a much larger player base. The weekly and monthly bonuses are great and really apreciated. Rollbit on the other hand has a great rewards system and the Rakeback seems to build up faster than at Stake. Both have valid gaming licenses and take player safety and security very seriously indeed. Unfortunately we are going to have to sit on the fence here and say that we love both equally. Both Crypto Casinos are fantastic and we will continue to play at both well into the future.
FAQ
Rollbit Vs Stake – Which Is Better?
Every player has different preferences when it comes to choosing a Crypto Casino. Some people want bigger bonuses, some players want more games. When we are asked the question Rollbit vs Stake, which is better, we cannot answer because both are equally as good.
Are Both Of These Casinos Legit?
Both of these casinos have a valid license issued by the Curacao gaming authorities. They both take player safety and security very seriously indeed. You wont have any issues regarding withdrawals at Rollbit or Stake because both pay their players instantly.
Does Stake & Rollbit Offer Players Rakeback?
Yes, both offer Rakeback on every single casino bet that you make. This accumulates quickly and you can withdraw it or use to play games. This is why Crypto Casinos are so rewarding, the bonuses and rewards on offer eclipse those at regular FIAT gambling sites.
Does Rollbit & Stake Have Sportsbooks?
Both have sportsbooks so if you decide to sign up at either, you can bet of some of the worlds biggest and best sporting events. Every event has many different markets so there is something for abslutely everyone. Its great to be able to bet on sports and play casino games on the same site.